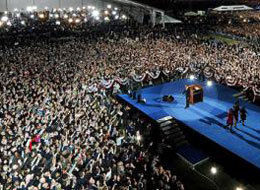 The depth of your generosity and caring are such a hallmark of your posts. You are a beacon of hope and our new paradigm of not me but we. T
"That's the true genius of America: that America can change. Our union can be perfected. What we've already achieved gives us hope for what we can and must achieve tomorrow."
"It can't happen without you, without a new spirit of service, a new spirit of sacrifice. So let us summon a new spirit of patriotism, of responsibility, where each of us resolves to pitch in and work harder and look after not only ourselves, but each other."
Thank you for reminding us of the preciousness of possibility that we have the opportunity to harvest.
About Election Reaction
Read the Article at HuffingtonPost